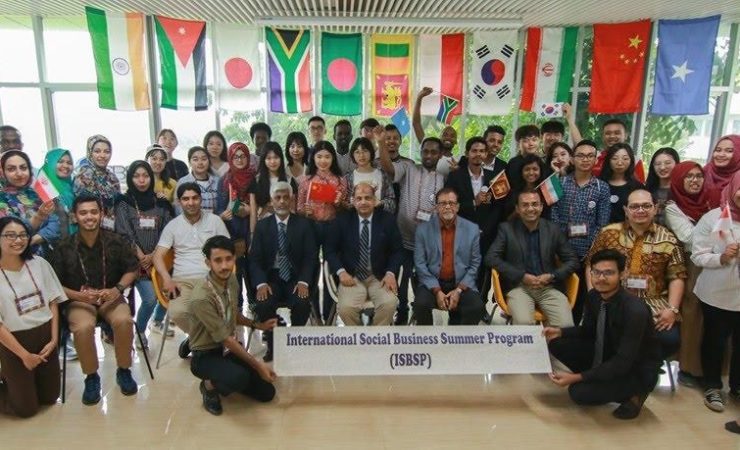 UNAIR NEWS – International Social Business Summer Program (ISBSP) was held by Daffodil International University, Dhaka, Bangladesh on July, 12-22. Every year the activities are attended by undergraduate and master students from all over the world and involve lecturers, academics, and practitioners. Universitas Airlangga sent 6 students including Celine Ilyassin (MAKSI 2017), Nikmatul Fuadah (MSEI 2018), Dyta Septiyatik (English Language and Literature 2015), Nusrotul Hidayah (Islamic Economics 2015), Soraya Kamila Humaira (Management 2016), and Gery Lusiano (Accounting 2017) and 2 accompanying lecturers namely Dr. Wisudanto, S.E, MM, CFP, ASPM (Secretary of PUSPAS) and M. Thanthowy Syamsuddin, SE, MBA (Department of Management).
"This activity aims to introduce Social Business as a solution to overcome social problems. Prof. Muhammad Yunus sparked the idea of social business by introducing the concept of microcredit as well as the founder of Grameen Bank in 1976. This led him to get Nobel Peace Prize, "said Gery Lusiano as one of the participants. ISBSP 2019 is a series of events designed to introduce Social Business while implementing it in the form of a Social Business Plan Competition. ISBSP 2019 participants came from Indonesia, Iran, South Africa, India, Somalia, Jordan, South Korea, Iraq, Japan, China, and Sri Lanka.
During the first three days, the participants received introductory material from experts in the Social Business field. This activity was carried out in the classroom on Focus Group Discussions, and Games. Day 4-6 participants began to be formed in groups to compile a Social Business Project Plan. "This activity also includes customer surveys and industry visits. "At the end of the event, the participants participated in the Discussion Panel and Social Business Plan Competition," he said. UNAIR was honored to be one of the speakers in the Discussion Panel entitled Challange and Opportunity of Social Business in Dhanmondi, Dhaka, represented by Dr.Wisudanto, S.E, MM, CFP, ASPM., As the Secretary of PUSPAS.
After that, all participants divided into several groups delivered Social Business Plan presentations to the juries. Three teams from UNAIR won the 1st and 2nd place in Social Business Plan Competition. Team 1 took the title Manusa Plastic Bank, organized by Gery Lusiano consisting of Dyta Septyatik and Nusrotul Hidayah, who won 1st place. The title selection was motivated by the amount of plastic waste that continues to increase every year and has an impact on environmental pollution. "This is the concept of recycling plastic into an environmentally friendly product. "This will open up new jobs efficiently through simplifying the distribution chain for shipping plastic waste," he said. Furthermore, Team 2 and Team 3 managed to become a joint Runner Up consisting of Soraya Kamila Humaira, Dr. Wisudanto, S.E, MM, CFP, ASPM, M. Thanthowy Syamsuddin, SE, MBA, and Nikmatul Fuadah.
Author: Gery Lusiano
Editor: Nuri Hermawan
Source: http://news.unair.ac.id/en/2019/07/25/unair-delegation-make-clean-sweep-of-2019-isbsp-competition/ .